The round ductwork machinery is needed to produce round air ducts which can be used for various purposes like ventilation ducts, air circulation systems in offices, shopping malls, subways, and other places. With the high-quality equipment, you can make high-quality ductwork, that looks great and runs without water or air leakage. That is important.
On this website, you'll find high-quality affordable HVAC machinery that can be easily set to run high-quality products for your customer. Most of our machines are designed with custom-tailored flexible functionality.
What is important in a spiral duct making machine?
The spiral duct machine should be chosen in accordance with the required production speed to meet estimated demand, configurations to run various materials and gauges, and the range of diameters required for your customer's project. It is important to ensure that the equipment meets safety requirements and is reliable for industrial use. It is good when the machinery interface is well designed and has user-friendly features allowing to run it by an operator with any skill level. The functions must enhance production efficiency. Choose highly reliable machines combining stability and production speed. It is much better if the brand can boast of references worldwide.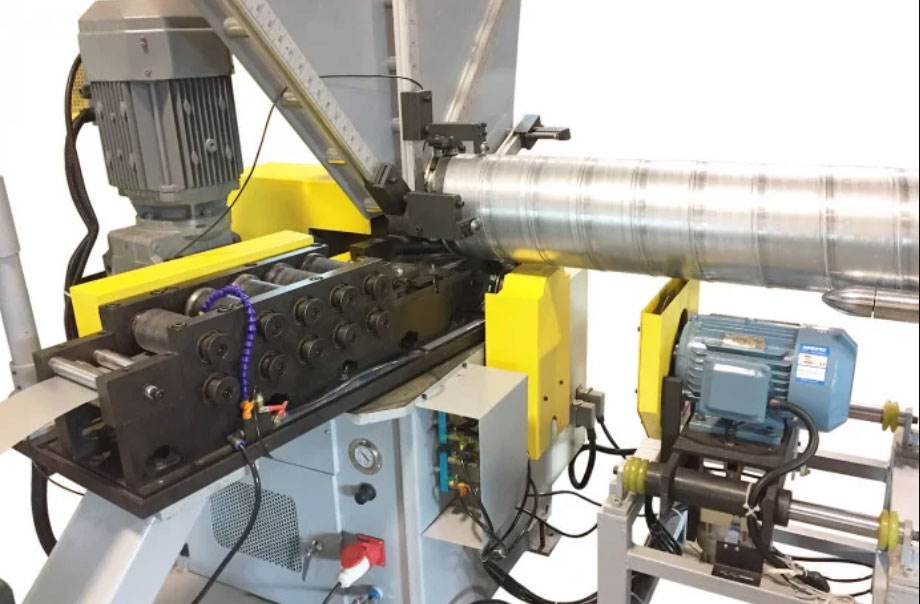 Our offering
We offer various options with our spiral tube former to meet all your requirements. It consists of machines providing a wide operational diameter range. You can find the modules of high performance producing round ducts for standard and customized ductwork. The operation of most modules is quite easy.
Consider:
Industrial advanced spiral tube former operates with aluminum, copper, galvanized, and stainless steel as a raw material. Being an advanced machinery tube former makes the ducts of various diameters (from 3.15 to 60 inches) and comes with several features. The price of the spiral duct machine is quite reasonable considering its functionality. You can add or drop the options that you need or do not. Customization allows you to use a perforated strip for automotive air filter production.

Industrial round and square downspout elbow machine producing the elbows of round and square shapes using welded or seamless ducts made of aluminum, copper, galvanized steel, PPGI.

Downspout elbow machine making square and round downspouts and elbows for HVAC systems processing welded and seamed ducts.

Elbow making machine gorelocker 5-50 inches producing round duct elbows and fabricated fittings. The construction is built as a two side machine consisting of a couple of working sites intended for different operations. Also, the equipment is marked by a low power consumption.

Manual roller bender being known as the most powerful one. Its body is made from heavy-duty cast iron. Its strong gear reducer bends the square and overall items of large thickness easily. It is possible to use an engine to transfer the manual bender to an automatic model.

Pittsburgh Lock Forming Machine serves to form various HVAC seam types for square and round ductwork of small and large diameter. This HVAC machinery runs with a low noise and high efficiency. You can choose between portable and stationary constructions, rectangular, and round models.
How much cost round spiral duct making machines?
The cost of equipment depends on many factors and the needs of the customer.In any case, you can always contact our specialists and we will select the best option for you. We also have a stock of used HVAC equipment to offer even greater savings. Reach us out right now to find out the details!

FAQ | HVAC round spiral duct making machine
What are the most popular machines in this category?

What are spiral ducts?

Air ducts of what diameter can be made on machines?